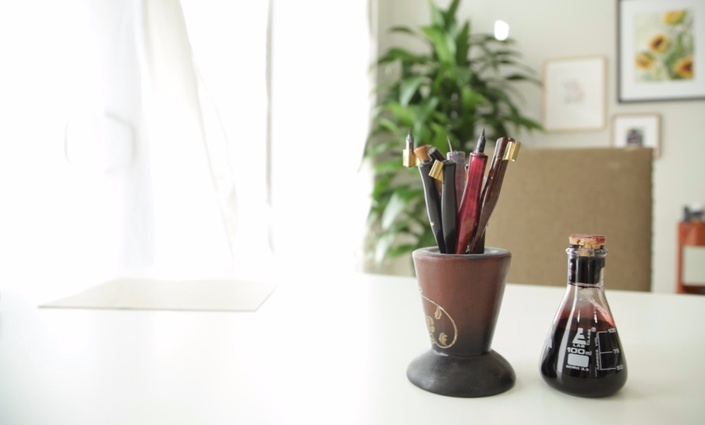 Learn Copperplate Calligraphy - Spring 2020
A comprehensive ONLINE course to walk you through all the basics of learning this gorgeous and widely popular script
"Get the fundamentals down and the level of everything you do will rise"
- Michael Jordan

You've seen calligraphy everywhere on Instagram, Youtube, Pinterest and now you're ready to learn. But the thing is, like any skill, calligraphy is not something you can pick up through random videos and tips here and there. It requires both study and thoughtful practice to develop muscle memory in order to see your script improve over time.
Learn Copperplate Calligraphy is designed to be your 1-stop course packed with instruction, extensive handouts, exemplars, tips/techniques, and suggested homework so you can stop wasting time/money, walk away with a solid foundation and start creating more!
- WHAT'S INCLUDED IN THE COURSE? -
This course is made up of 6 teaching modules, with individual lessons within each module. Including all the bonus videos, there are over 35 video lessons provided for you! Each lesson will have a video as well as a written component for you to follow along. Suggested homework will also be given after each module so you can apply what you have learned right away.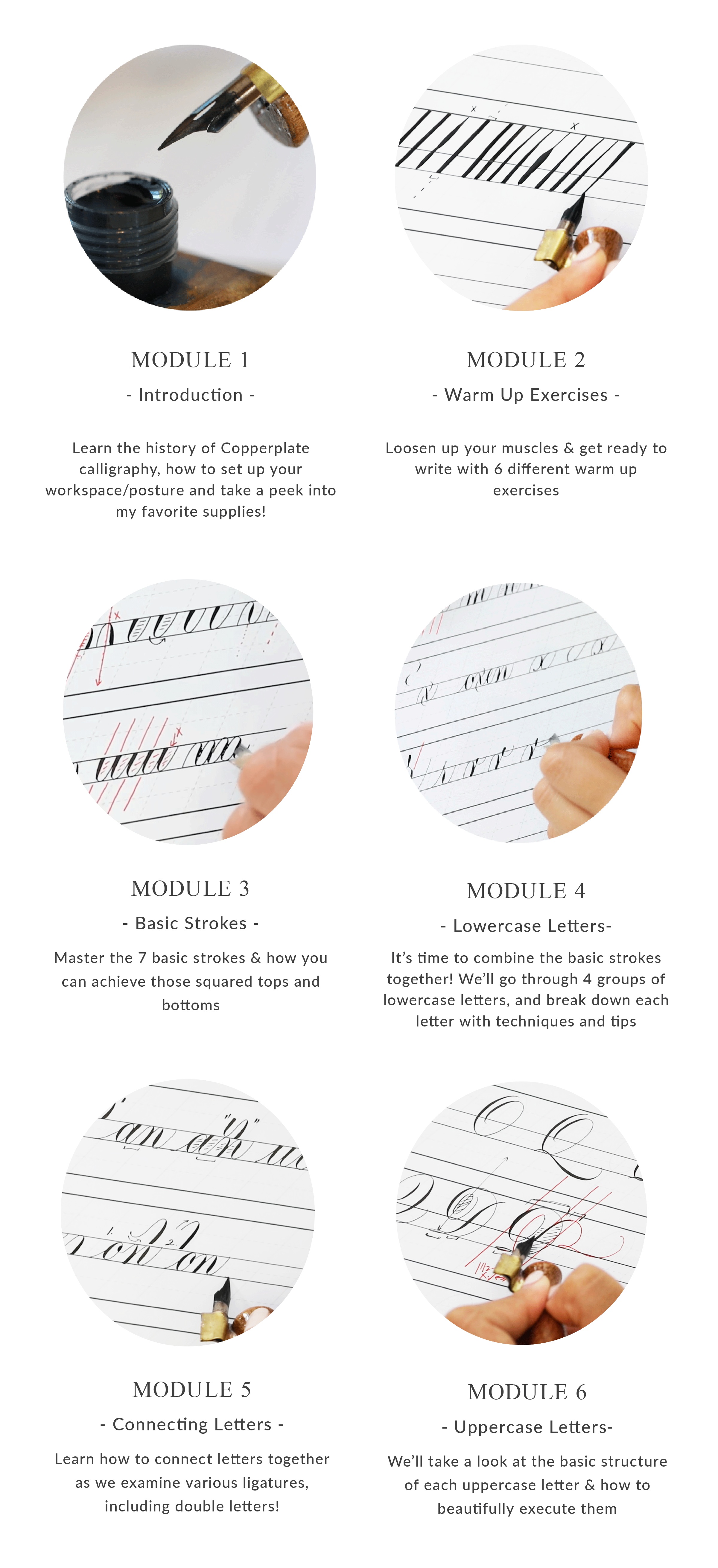 - BONUS LESSONS -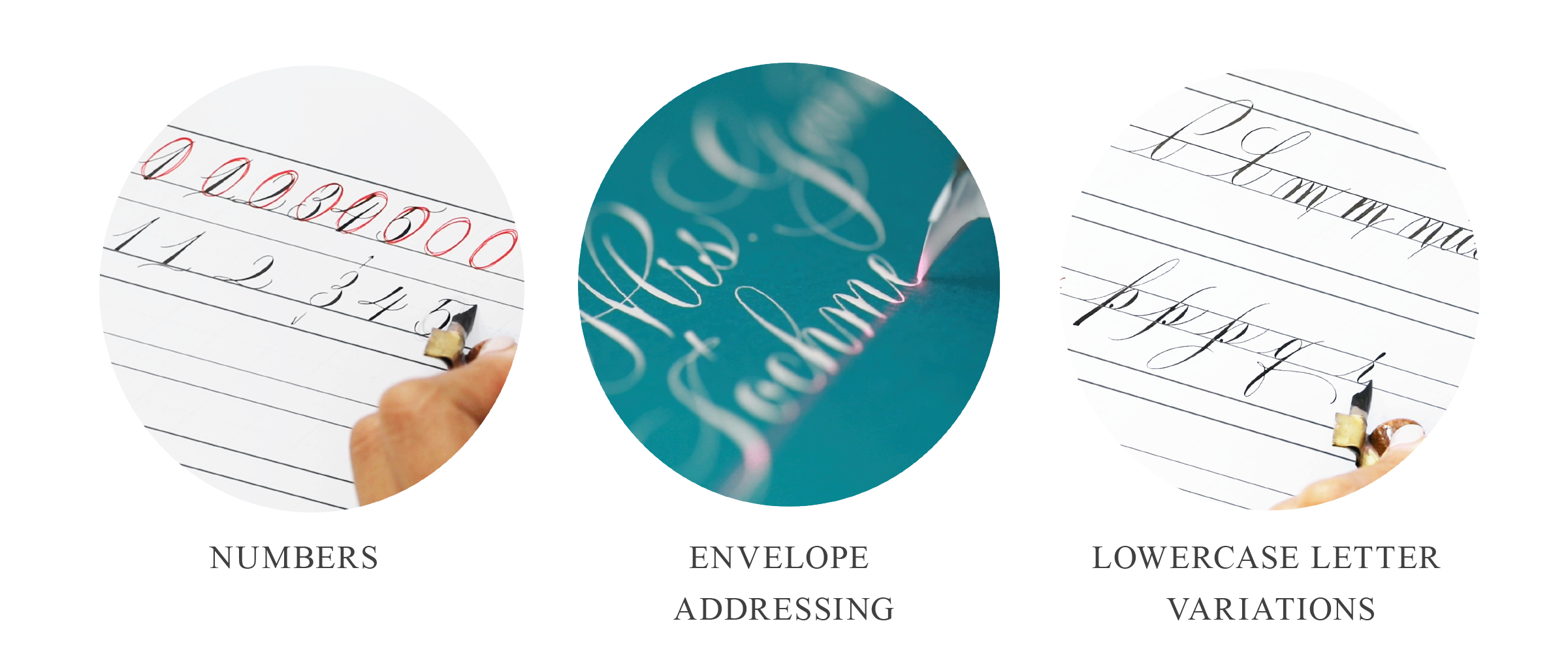 More?! YES! I'll be including THREE bonus instructional videos that covers numbers, how I address light/dark envelopes, and walk you through some fun lowercase letter variations that you can incorporate right away to change things up (this lesson alone is valued at $99! ). There will also be a special video just for my lefty friends!
-MATERIALS NEEDED-

The following is a recommended list of materials you will need for the course:
A Pencil & Eraser - Any brand is fine!
Pen Holder - I personally write with an oblique, but if you prefer the straight, that's fine! A good starter holder is the Dual Workshop Holder ($6.49) or the Moblique holder
Paper to print guidesheets on. HP Premium32 is a good one, but if that's not available in your country, use any smooth paper that takes ink well without bleeding! You can also use Borden & Riley #37 Marker Layout Paper or Borden & Riley Cotton Comp Paper on top of your guidesheet.
Ink - My favorite is the Moon Palace Sumi Ink.
Pointed, flexible nib - Use whatever nib you are most comfortable with. I personally enjoy writing with a Hunt 22, Nikko G, Leonardt Principal EF
Computer/Laptop with Wifi - The course videos can only be accessible through a browser and internet access.

Downloading/sharing/recording the videos is strictly prohibited

Printer - I will be providing scans, worksheets, homework exercises that you can print out at home. You may want to put them in protective sheets in a binder for your self study!

If you need to purchase supplies online, I have a teacher page set up through John Neal (use code LOGOS for extra 5% off) and Paper and Ink Arts.They ship worldwide!
- LEARN COPPERPLATE CALLIGRAPHY -
Access to 35+ Professional Video Lessons in HD

Lifetime Access & Updates
50 page Instructional Workbook (Including Actual Course Scans)
Bonus Lessons (Envelope Addressing, Numbers, Lowercase Variations)
16 pages of Traceable Basic Strokes Practice Sheets
5 Copperplate Guidesheets
9 Weeks of Support from me as I walk you through the Course!
*NEW* Private Facebook Community + Student Portal to receive support
and accountability from your classmates

---
Sample of some of the handouts that you will receive with this course: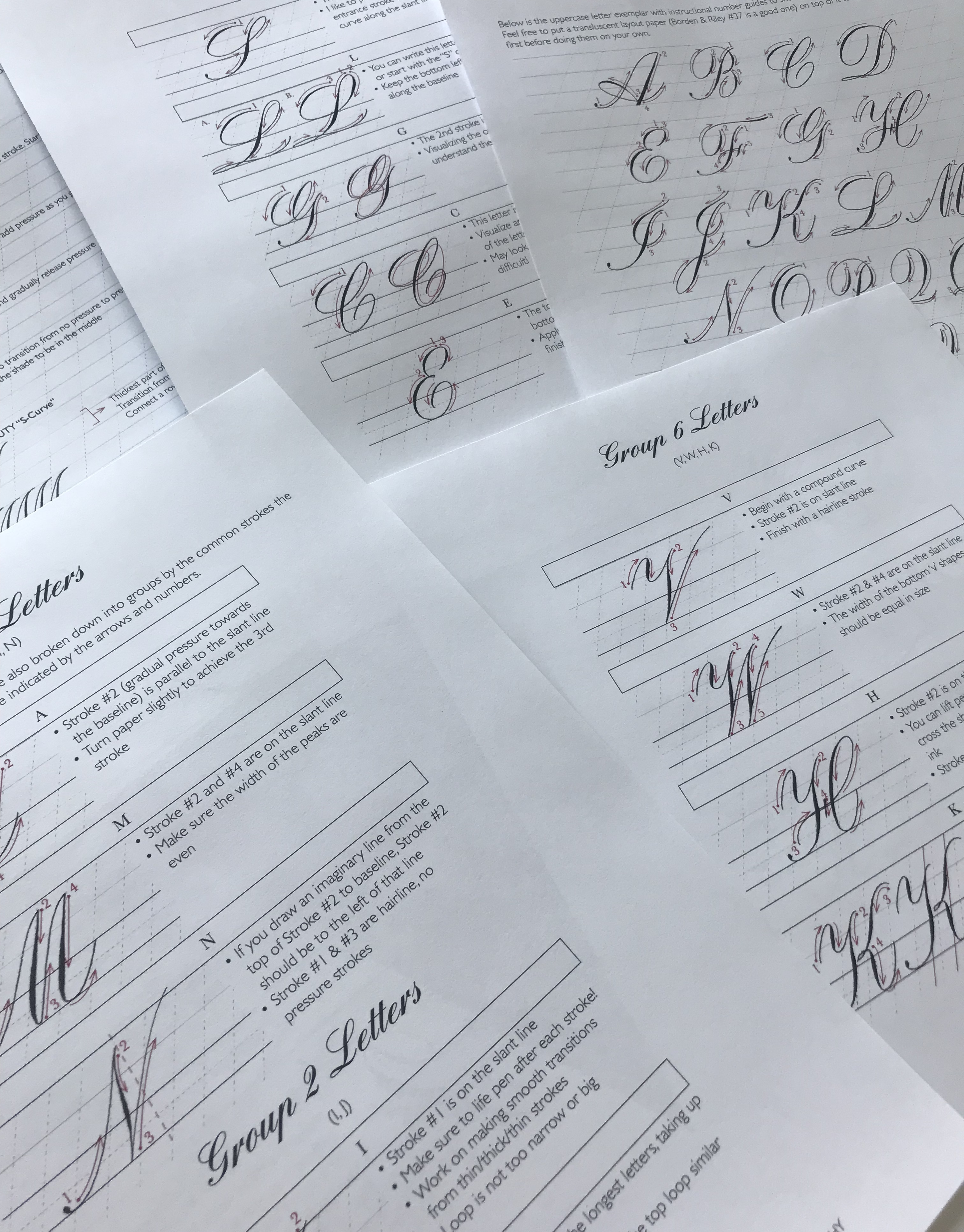 - STUDENT TESTIMONIALS ARE IN! -


"I am loving your video instruction and demonstrations, so much thought and attention to detail, makes it so much easier to understand the formation of the strokes. So many Ahh! moments for me once I see how you demonstrate certain things" - Janet
"I really like the way you explain. you explain it very detail and I have alot of new thing I can learn about calligraphy. Really appreciate it.." - Suwarni
"This course is great! I am learning so much from your videos and demonstrations! Your attention to detail is just what I've been searching for. I love your technique and the style of your letters.... I am already seeing improvement in my letters ! Thank You so much!" -Joyce :)))
---
Hearing back from my online students reassured me that you most definitely CAN learn calligraphy online! With my "Learn Copperplate Calligraphy" course, you won't just get lifetime professional video lessons, but within each module, there will be a written portion as well as handouts/exemplars/etc to make sure you get started off right!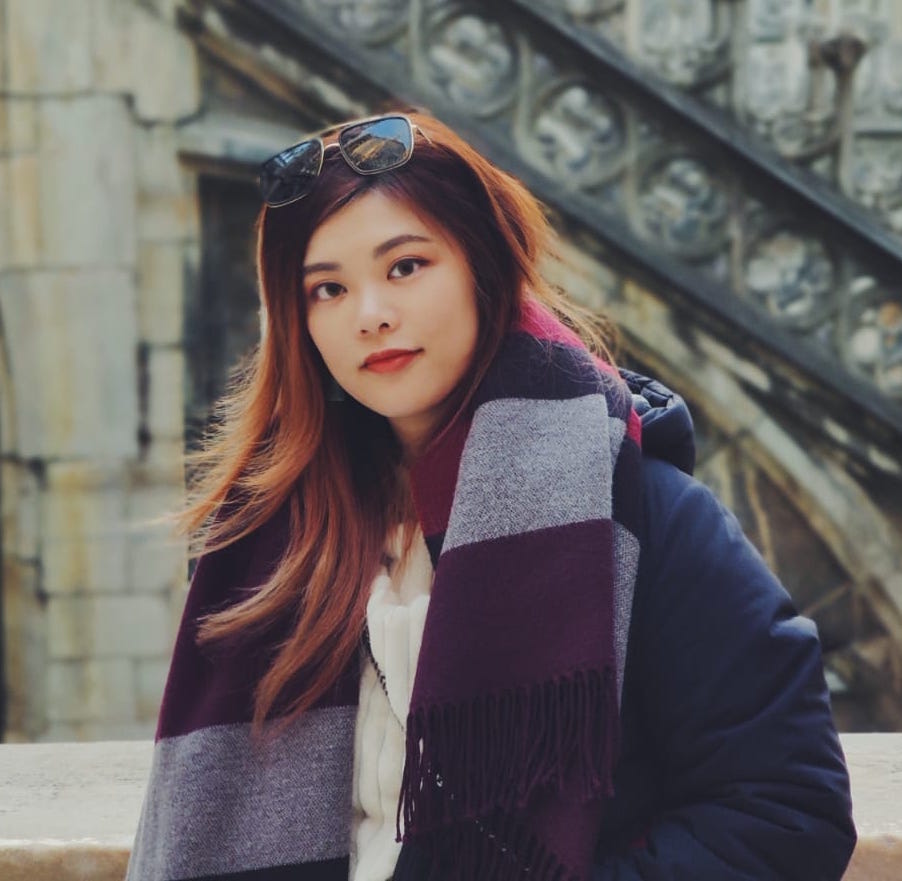 "After the local course I realized, 'yes I can write something, but my writing is not consistent.'...Younghae's class explained how to write each stroke and how each alphabet is formed by strokes. This helped me a lot in terms of consistency. I can soon see a improvement after the first few homeworks.
Younghae's style is different from the other calligrapher that I followed. I love her simple, but elegant style. So when I know that there's class opening, it's a MUST to sign up. Not to mentioned that the price is reasonable and there's lifetime access.

The course is just super good! And I really love the lifetime access part. As most of us are not doing this full time, lifetime access gives us the change to manage our own time and really provides the flexibility"

-Ling @ling.lettering, Singapore
Frequently Asked Questions
What supplies do I need to get started?
All you need to get started is a penholder, nib, ink, paper, printer, and a computer with internet access! A full supply guide is listed above
Will there be handouts included?
Absolutely! Not only will you get scanned images of the exact letters I demonstrated through the course, I will be providing extensive handouts that you can download and print right away.
How long do I have access to the course?
You have lifetime access to the course! I completely get that life can get busy, so I want you to take your time and go at your own pace. Take a break if needed, and pick up where you left off.
How is this course different from MCS 2.0?
If you have taken my MCS 2.0 course, the bulk of the course will be the same; however there will be MORE content and greater accountability. I've added the following extra videos: numbers, lowercase letter variations, envelope addressing, connecting letters (sample ligatures/double letters), etc.
Will you be providing feedback?
I won't be providing feedback for your homework, BUT I will be giving you access to my previous feedback videos for each Module. I'll also be logging in weekly to answer any questions or help troubleshoot!
When will the course begin and end?
This course will re-open for registration around late Summer. The Modules will be released according to the recommend course schedule. Afterwards, it will remain open for you to watch again and again for life!
Do you provide any refunds?
Unfortunately, due to the digital nature of the course, all sales are final and non-refundable. Please feel free to reach out with any clarifying questions before purchasing the course. Thank you!
Your Instructor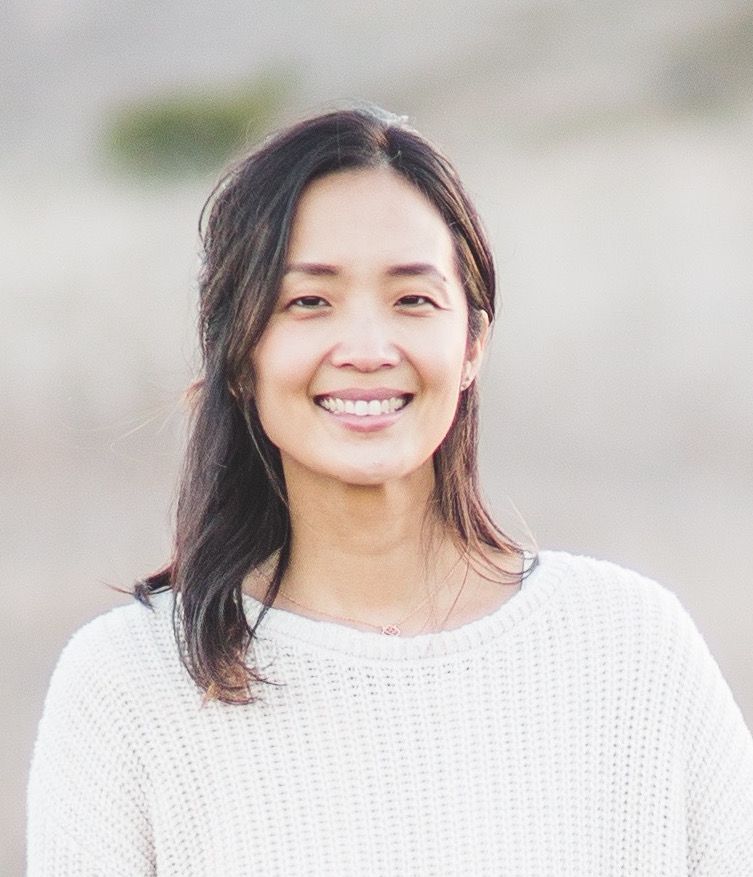 Hi! I'm Younghae of Logos Calligraphy & Design and I'm so excited to be part of your journey! I picked up Copperplate calligraphy in 2014 and since then, have continued my studies by learning under various master penmen/instructors as well as through my own personal practice times and commissioned work.
One of the reasons why I love teaching this script is not only because of the elegance, but the versatility of Copperplate. You can incorporate it into wedding invitation design, envelope addressing, marriage certificates, custom prints, logo design, and more!
After teaching thousands of students locally here in Southern California and online through Modern Calligraphy Summit 2.0, I'm thrilled to offer this course to you worldwide so you can learn from the comforts of your home. I'm looking forward to having you in class <3
This course is closed for enrollment.